Relax – we've got your back
Tired of awkwardly holding a back scrub brush with one hand, but not be able to reach every inch of your back? Need to scrub dead skin cells but just don't have the right grooming tool (or the physical arm-to-back flexibility) to do it? Let our Silicone Massage Scrubber do the work for you.
It's a spa-like experience
If you've ever had your back scrubbed deeply with a soothing scrub at a spa, you'll know just how
amazing
it feels. Recreate that experience all by yourself with our full-length back scrubber. Its silicone bristles exfoliate dead skin while stimulating blood flow for ultra relaxation.
Discover the ultimate spa-like experience with our Silicone Massage Scrubber. This innovative scrubber combines the gentle exfoliation of silicone bristles with invigorating massage nodes, leaving your skin feeling refreshed, revitalized, and deeply cleansed. Perfect for daily use, our Product enhances circulation, promotes lymphatic drainage, and helps to improve the appearance of cellulite. Treat yourself to a luxurious self-care routine and achieve smoother, softer, and healthier-looking skin. Shop now and indulge in the rejuvenating benefits of our product.
Ergonomic design
Dual non-slip handles allow you to hold your scrubber from shoulder to lower back with ease. Our scrubber spans 23.6in (60cm) in length.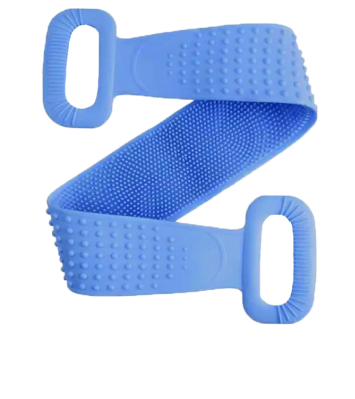 Dual-sided action
One side of our
scrubber
features soft, beady bristles for gentle cleaning while the other has pointier, more aggressive bristles for a deeper clean.